If I was as smart as Bagel, I'd figure out a way to align these three.
North along the west coast - Mexico (just barely), California, Oregon, Washington and Canada (Vancouver Island) - then east through Washington, Idaho and Montana, then south through Wyoming, back into Idaho, Utah, tiny bits of Arizona and Nevada and finally back to California. Whew! That was about 5,200 miles of fun.
Maps
Part 1 - gorgeous coastline of the west - from home to Tijuana, Baja, Mexico up through California and Oregon to Cannon Beach, OR
http://tiny.cc/Ucu6A
part 2 - coastal redwoods and other lovely forested areas with lots of lakes, rivers and streams - Cannon Beach, OR through WA to Victoria , BC, Canada back to WA, through Idaho and Montana to West Yellowstone, MT
http://tiny.cc/jOazd
part 3 - mountains, lakes and rivers as well as canyons and deserts, all spectacular - Yellowstone National Park, Grand Teton National Park, Bryce Canyon National Park, Zion National Park, Valley of Fire State Park, Mojave National Preserve and all the way home
http://tiny.cc/Qtpkc
Some of the sights along the way:
Murals at P Town Scooters in Portland, Oregon. Big thanks to Patrick and the gang for fixing me up with a new set of tires! (Make sure you bring them good coffee and croissants if you stop by... and tell them I said "Hi!")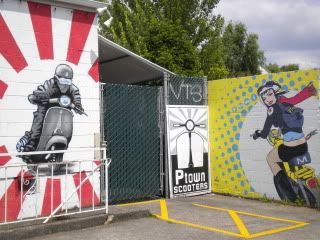 Portland's own VooDoo Donuts delivery vehicle (no kidding)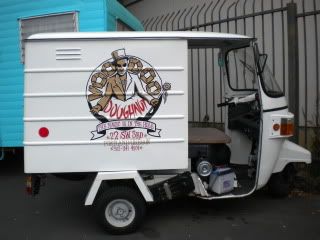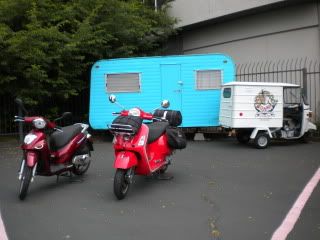 Lunch stop in Cannon Beach, OR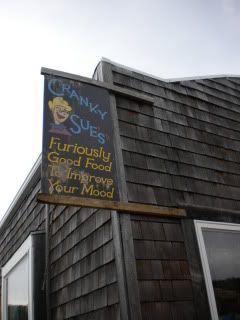 rest stop in the Hoh rainforest, WA
one little Vespa and one big BMW amongst the tall trees of Olympic National Park, WA
Scooters Vancouver Island Style scooter club let us tag along on their Sunday ride - Victoria, BC, Canada
A ride around the southern part of Vancouver Island
We were on a logging road, so following a logging truck for a while was kind of expected (still Vancouver Island, BC, Canada).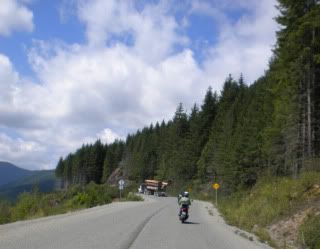 Deception Pass monument and bridge, WA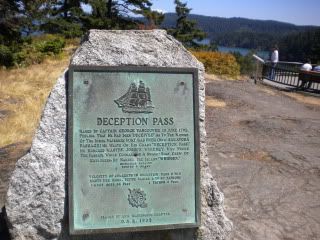 Highway 20 runs east - west through the entire state of Washington. Its beauty is really and truly stunning. It's also my favorite road on this trip. Here are three of the pics (none of which do it justice):
Diablo Lake overlook - Hwy 20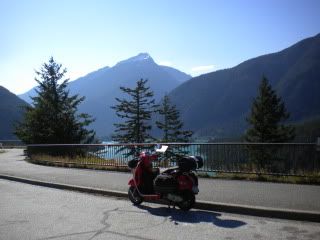 streams cutting through a verdant valley near Rainey Pass - Hwy 20
there's still snow on the ground near Silver Star Mountain - Hwy 20
Crossed the continental divide a bunch of times -
on Hwy 12 overlooking Helena, MT . . .
. . . with an unwelcome hitchhiker on Elk Park Pass near Butte, MT
. . . and several times in Yellowstone National Park
Yellowstone National Park entrance and a very sweet Italian family
Lupine blooming along the roadside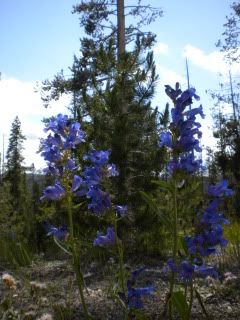 Firehole or Madison River (don't remember which one )
Lower Geyser Basin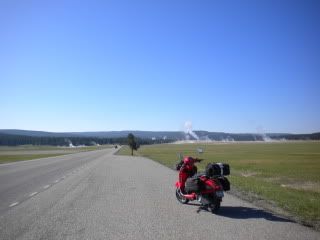 waiting for Old Faithful
Here it is
Ephedra Spring - Impressive to see wildflowers blooming in such an inhospitable environment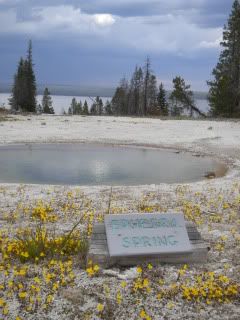 Bison were more common than I expected. And they were WAY bigger than my little scooter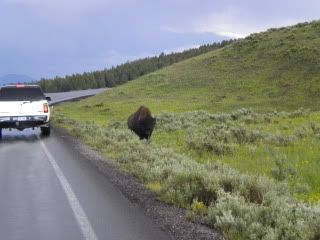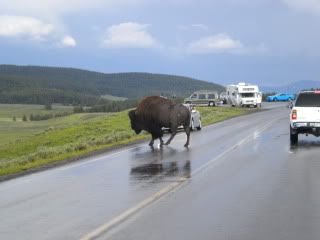 Picnic after the rain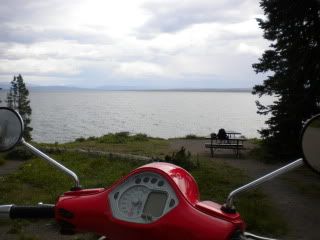 Hayden Valley and Yellowstone River
Yellowstone River rapids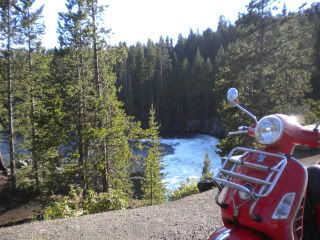 Upper Yellowstone Falls from Artist Point (complete with actual artists)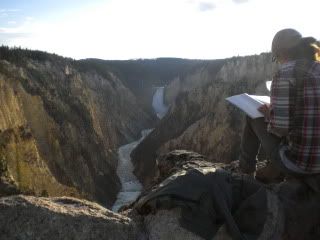 Jackson Lake
Grand Teton glacier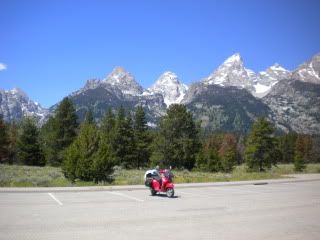 Jackson overlook from Teton Pass / Yellowstone Hwy
I went from Jackson, WY to Idaho Falls, ID and stopped at the Vespa dealer for an oil change and attempt to repair an oil leak. There was a coop with guinea hens behind the shop. I wish I hadn't run down the battery in my camera - would have loved to take a pic for Jess.
Idaho
Afternoon rain in Utah
Utah windmills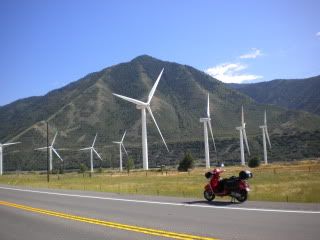 Dixie National Forest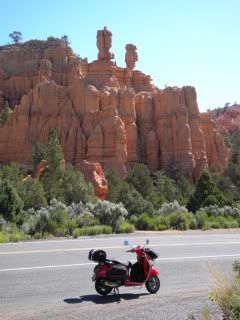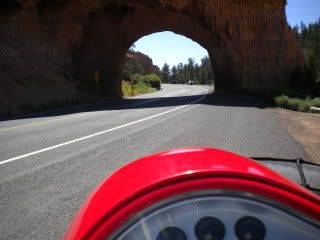 Bryce Canyon National Park
Rainbow Point - Bryce Canyon
Can you see the poodle in Poodle Rock?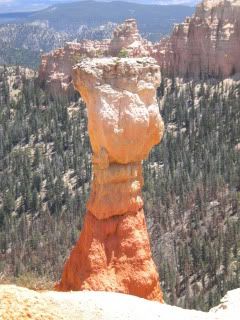 Vistas from some of the many Bryce Canyon turn-outs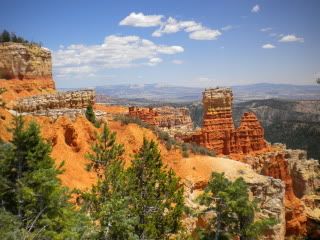 Zion National Park
Zion Hwy 9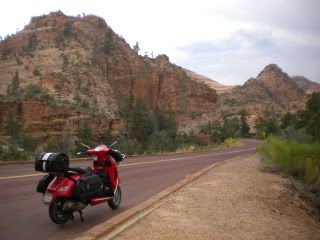 Zion Kolob Terrace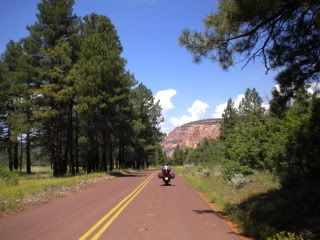 Kolob Terrace toward Virgin
The bad news is it was 118 F in St. George, Utah. The good news is they have an In-N-Out Burger (YAY!)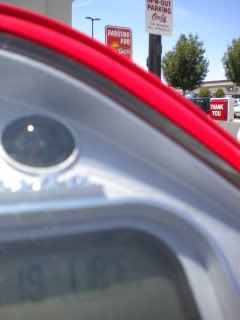 Valley of Fire State Park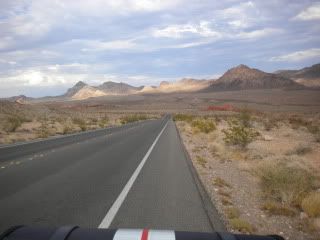 edited twice to add photos
⚠️ Last edited by ks7877 on

Fri, 18 Sep 2009 03:03:55 +0000

; edited 2 times