I had a nice running '65 Vespa Sprint with not-so-great sheet metal. The floor boards and the tail end were in the worst shape. A previous owner covered up much of the rotten metal with bondo and paint. But rust-through was apparent in one area, and close inspection showed the floor boards and their stiffening ribs were in bad shape.
The scoot had been around for a while, reportedly coming to the US from Italy to a Denver Area Shop and then making its way further west to Seattle. From the number, the motor appears to be a '72 Sprint Veloce, presumably with the power increase of three ports. It runs strong.
Sprints are seemingly devauled somewhat, as they are a favorite of Viet-bodge. This scoot in not from Vietnam, and has the nice look of an early Sprint - and since it runs so well, I hated to let it continue to deteriorate.
After some research and finding an excellent metal fabrication man (Elliot from Elhot Metal Fab) in Seattle - who was willing to work with me on a budget, I decided to replace the floor boards with new ones. I sourced the new Italian-made floor boards from SIP in Germany. With shipping to Seattle, they ran about $150, but saved many dollars in labor had I tried to repair the original ones.
Here are a few photos of the repairs. The metal work is complete and the scooter is now with the painter.
Work is about to begin. You can see one spot rusted through by the rear brake pedal.
One side has been cut off. Bondo is now showing under the paint. More rust-through can be seen under the bondo.
Peeling back the onion . . .
The running boards are gone now. Rust in the tunnel looked superficial.
Black colored POR-15 has been applied to the inside of the tunnel to protect it for the future.
Ooops, more rust-through near the rear swing arm attachment. It had been covered with bondo.
The new floorboards are test fitted. Notice how far they go forward. Not all the way, but at least they cover the worst area and all the reinforcement ribs are new.
Surgery . . .
Backing up the patch.
Ahhhh, I'm whole again!
Clamped in place and getting ready to tack weld.
A close up. One spot ahead of the new floor boards required a patch. The rest was sound.
Things are looking up now . . .
Tack welds are in place.
Welds are complete and ground down.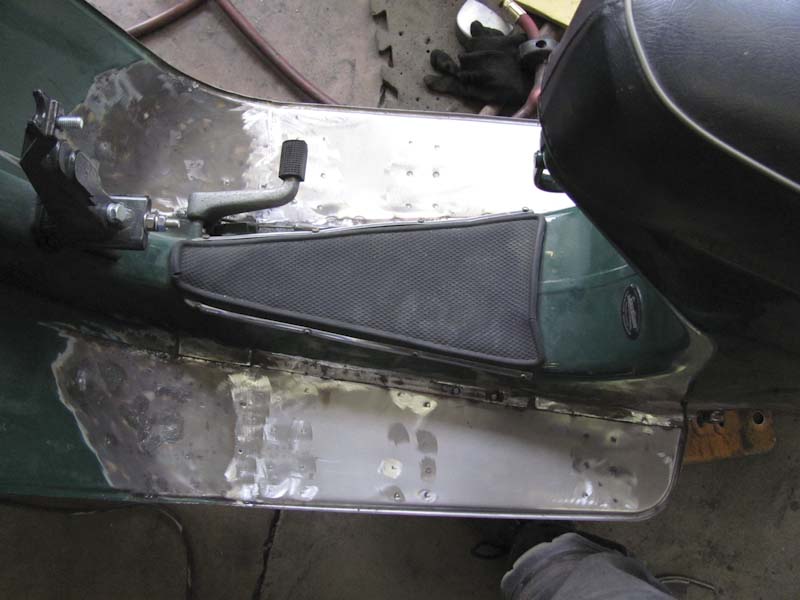 Hey, this wasn't so bad. I like how this is looking.
Primered to prevent rust bloom before the painter gets started.


Last edited by Augsburg57 on

Sun, 30 May 2010 18:06:38 +0000

; edited 1 time