Thought I'd start a thread on my P200 performance build. The goal is to start with a "bolt-on only" build and see how well it works. I want to be able to revert the bike back to stock if I wanted to. By "bolt-on", I mean not splitting the cases. I figure everything else is open for mods. The plan is to build a nice running P200 that I can use to cruise around on and drive to work. By drive to work, I mean hop on the highway and not get run over.
As it sits, my P200 has about 5,600 miles on it. It will happily cruise 55+mph. The bike is currently stock except for a Sito+ and some rejetting. Up until now, everything I have done to it has basically been for maintenance. The bike is a real strong runner so I am approaching this build with a bit of caution. I don't want to take my great running bike and create something that only wants to accelerate or can't run a constant throttle without the risk of blowing up.
With all this in mind, I carefully chose the parts by what I could find used or on sale.... Well kinda.
The build started when I scored a nice used Pinasco kit off of Scoot.net classifieds. From the same seller I also picked up most of a Spaco 24 carb. The Pinasco kit was going to fit my bill nicely since it would basically bolt on a set of stock cases and it was an aluminum cylinder with a Nicasil bore.
I had read constant tales of problems about people setting up Pinasco kits. The general consensus was the heads needed mods and the porting would or would not work with a stock or stroker crank. I found the best way to resolve this was to drop ship the parts from Chicago straight to Hotrod Al in Fresno. Yep, I never even saw the purchase.
Al got my parts in and confirmed that the carb was in good shape and the Pinasco kit was in amazingly good condition and did in fact include a pack of brand new rings. We talked a bit and I described what I wanted to do. We decided to port the cylinder and modify the exhaust, cut the head and convert the carb to a Vortex. I went ahead and shipped him the original airbox. I wanted the top modified for the filter and I wanted the bottom matched to the carb. While I was at it I sent him the flywheel to have lightened.
In the meantime, I convinced a fellow scooter enthusiast to part with his 226 pipe and picked up a banded clutch bell off eBay (sorry if I sniped someone on the forum...). Also picked up a CHT to help in tuning and to reduce the risk of seizure.
So here is the starting point: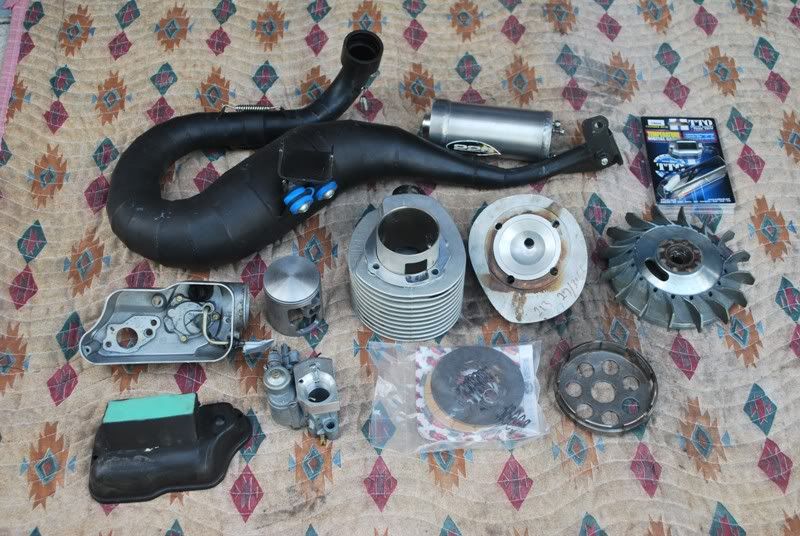 Chuck