Overview
While the redesigned Aprilia Scarabeo 500ie retains some of the basic elements of the previous GT, the new Scarabeo has a slimmer, sleeker design showing the influence of Piaggio design following the acquisition of Aprilia by Piaggio in late 2004. The first model was introduced in 2007, which unfortunately was the start of the Great Recession, leading to reduced sales of all scooters including the Scarabeo 500ie. In the United States, larger scooters have historically not sold as well as smaller scooters, and combined with low sales 2007-2011 Scarabeo 500ies languished on many showroom floors. In second quarter of 2012, Piaggio announced that many of their large displacement scooters using the MASTER engine would no longer be available in some markets including the United States.

Comparison to older models
Although sharing its name with an older series of 500cc scooters made by Aprilia, the Scarabeo 500ie has different styling and has more in common with the Piaggio BV 500. The new styling of the Scarabeo 500ie was developed after the acquisition of Aprilia by Piaggio in late 2004. Other differences include smaller rear tire, smaller windscreen, lack of ABS option and lower MSRP versus the GT. While the 500ie has underseat storage and rear rack, large hard side cases were available for the GT.

Fuel Consumption
The Scarabeo 500ie has a fuel consumption range of 55-60 miles per gallon or 3.9 - 4.3 liters per 100km.

Model Variations
Developed by Piaggio in 2000, the MASTER (Multi-valve Advenced Super Torque Engine Range) engine was adopted for use in the Scarabeo 500ie. During the production of the 500ie, two variations of the MASTER were placed into the Scarabeo 500ie; a 460cc version with a single spark plug and a 492cc twin spark. The 492cc version of the engine was used in models beginning with those produced late in 2010. Other than twin spark and slightly larger displacement, the 492cc MASTER has few differences from it's predecessor and was designed to produce lower emissions. The figures below represent the 492cc version.

Issues
Aprilia issued a
recall
for 2006-2008 Scarabeo 500s with Briton fuel pumps and filters. Affected scooters were reported to have had loose hose clamps leading to engine stalling; the recall work involved replacement hose clamps installed by dealers.
Color Choices
Aprilia Black
Couture Blue
Shine Red
Charm Gold
Crowd Silver
Lead Grey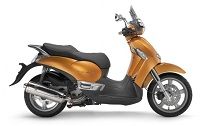 Official Specifications


ENGINE TYPE
Single cylinder, four-stroke catalytic Piaggio MASTER

CYLINDER CAPACITY
492cc

BORE x STROKE
3.6" x 2.7" (92 mm x 69 mm)

MAX POWER at SHAFT
29 kW at 7,500 rpm (39 bhp)

MAX TORQUE
43 Nm at 5,500 rpm

MAX SPEED
99 mph (160 Km/h)

FUEL / TANK CAPACITY
Unleaded minimum 91 octane / 3.49 gallons (13.2 liters)

GAS MILEAGE
55-60 mpg*

DISTRIBUTION
Single overhead camshaft (SOHC) with four valves

COOLING SYSTEM
Liquid

LUBRICATION
Wet sump, chain-driven lobe pump, filtration during aspiration and discharge

IGNITION
Electronic (with inductive discharge, variable spark advance and three-dimensional mapping)

GEARS CVT
(Continuously Variable Transmission) with torque server

CLUTCH
Automatic centrifugal dry clutch with dampers

CHASSIS
Double cradle in high-tensile steel
tubes

FRONT SUSPENSION
41 mm Telescopic Hydraulic Forks

REAR SUSPENSION
Two dual effect hydraulic dampers,
four-position coil spring

FRONT BRAKE
Twin stainless steel discs 260 mm
with fixed twin piston calipers 32-34mm left and right respectively

REAR BRAKE
Stainless steel disc 240 mm with fixed opposed pistons 34 mm

FRONT TIRE
Tubeless 110 / 70, 16"

REAR TIRE
Tubeless 150 / 70, 14"

LENGTH
87.2" (2,215 mm)

WIDTH
30.3" (770 mm)

WHEELBASE
61" (1,550 mm)

SEAT HEIGHT
31.1" (790 mm)

DRY WEIGHT
416 lbs (189 kg)

TYPE-APPROVAL
EPA and CARB

Last Updated
Thu, 26 Aug 2021 17:43:43 +0000