Perform this task on a cold engine.
As easy as this is, it may be a bit confusing, in part because the plug is a bit out of sight; you do a lot by feel. Also, there is a nearby part of the same green as the boot, and with a base that looks like that of a spark plug. See the picture below.
It is best to use the spark plug wrench that comes with your scooter (in tool kit in glove box) and a small screwdriver to turn it.
The spark plug has the green rubber boot on it. Pull the boot off the plug, being careful not to pull on the black wire at the top. It may take a bit, but use steady pressure and gentle wiggles. It's a tight working space. You may find that you can fit your other hand in the space for a little leverage and aid.
With the boot off, place the wrench carefully over the spark plug (with the holes for the screwdriver facing up). Press it fully over the plug, and make little wiggles and turns to be sure you have a good hold of the plug. Now, using the screwdriver, place it through the holes of the wrench and loosen plug while applying inward pressure so the tool doesn't slip. The threads are fine, and there are many, so it will take a number of turns to get it out. Once you crack the hold, you can then finish unscrewing the plug with your fingers (with or without the tool).
If you use another Champion (or similar) plug, the gap is .7 - .8 mm. DO NOT gap the NGK iridium plug. When replacing, find the hole with your finger for orientation, and insert the plug, being mindful of the electrode. Tighten to 12 -14 Nm or 9 - 10.5 lb ft. I do not have a torque wrench that can work in such a tight space, so I tightened it by feel. To get an idea, I found another bolt in the garage that I loosened and retightened to 10 lb ft to give myself a sense of it. It's not much force. DO NOT over tighten. Press the boot back in place; you'll hear a nice "snap/click" when it's set. And you're done.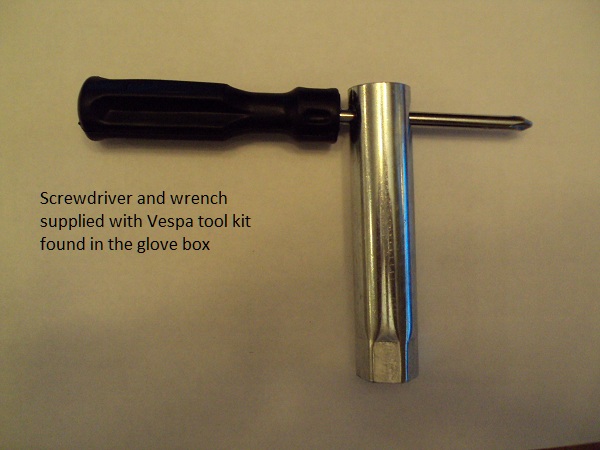 Thanks to Jess for engine picture above
Thanks to Harvey for assembly picture
It purrs with the new NGK
Last Updated
Tue, 24 Aug 2021 22:58:55 +0000